It's that time of year again — you're heading back to college, searching for a new apartment, or you're just looking to vamp up your space! From apartments to dorms, small-scale homes, or even cabins – we've got you covered! Styling a small space can be a challenge, yet fun at the same time. Let's dive into maximizing your space while staying on-trend and without overcrowding your space. When working with a small space, it's important to think about the room you plan to spend the most time in – this is where you'll want to optimize the most of our space. Maybe you're a foodie and are bound to the kitchen, or you're a pro at Netflix – whichever it is, we're here for you.
Get comfy, we're diving into living rooms, small scale furniture with big comfort! First things first, most small spaces are perfect for a chofa! Are you asking yourself what is a chofa? It's simple furniture math: sofa + chaise = chofa! These are great for those who seek the comfy lived-in living room, you're most likely the pro Netflix-er. Thinking that's not your style?? Don't worry, we still have plenty of options for you! What's next? LOVESEATS! Loveseats are quite popular for dorm + apartment dwellers needing apartment sized furniture. It's the big comfort of your favorite sofa compressed into a mini version!
Now, if you're a host, you may be wondering, "well where will my guests sleep?" If that's you, then our sleeper sofas will be perfect! Did you know they range from twin to king size? What's pretty neat, is we also have a sleeper sofa that transforms into a bunk bed! You're probably thinking, "Old Brick, I don't have room for a large sleeper sofa" – sleep sound tonight knowing we have sleeper chairs, loveseats, sofas, and sectionals!
Now that the big elephant in the room is out of the way (HAHAH!), let's chat about the smaller pieces in your home that will truly help you to maximize your space efficiently. Occasional tables bring so much more to the room than a place to set your phone or beverage on! End tables, chairside tables, and coffee tables can double as storage space! Opt for a chairside table with a shelf on the bottom, a storage coffee table OR get yourself a ninja-like ottoman that moonlights as a storage space! Storage ottomans are ideal for small spaces – if you're not interested in a chaise, grab an ottoman that can function as an additional seat or footrest all while storing your living room clutter.
Speaking of clutter…..let's talk about how to display your knick-knacks and other miscellaneous items you want to display but really don't have the space. Let's make the space with shelving! We love a darn good bookcase filled with keepsakes from travel adventures, plant babies, or maybe a small trendy lamp! We know you're in a small space and understand you may not have that floor space. If you can't floor a bookcase, a few wall shelving units will offer the same concept without stealing extra room! We've chatted about furniture math, occasional tables, right down to your knick-knacks – can you guess what's next?? You guessed it! It's time to feed your kitchen with small-scale goods!
Small living spaces usually have a smaller kitchen and lack a dining space, leaving the dweller wondering where to place a table to feast at each day. This is where our charming counter height kitchen table sets come into play! The counter stools easily tuck under the small table, making them ideal for small spaces, especially with the built in shelving units they have! Maybe your kitchen doesn't offer enough cupboards to store your dining ware – use these shelves to keep your most used dining ware items easily accessible yet still out of the way. Now, if you're lucky enough to have cupboard space – these shelves can easily become a super trendy visual with decorative dishes or pitchers.
NOW, if you don't have a kitchen/dining space, there are still options for you to eat at a spot that isn't your sofa! Let us introduce, sofa consoles. Sofa consoles are typically placed right up against the back of your sofa and is paired with stools that tuck underneath the unit. Tuck-away stools are truly an easy way to bring additional seating to your home, while also being hidden! Small space doesn't mean you have to compromise your style – style up, make it your own space and get cozy – after all, it's almost pumpkin spice season!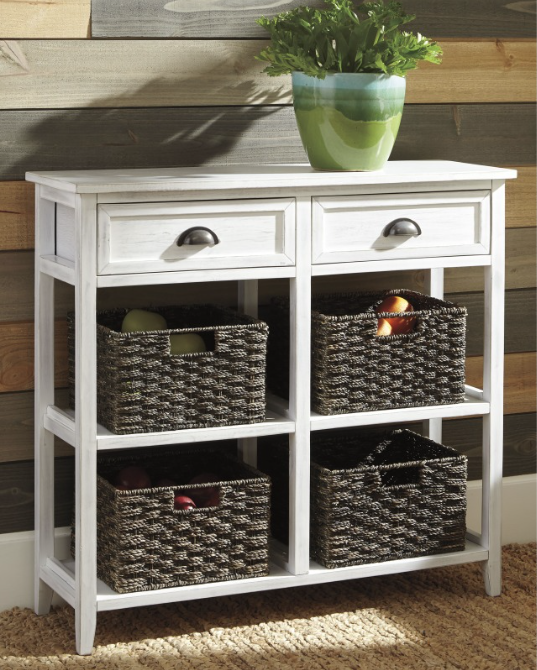 We sure hope we helped you learn how to maximize the style + storage of your space with a large selection of small furniture options.
Before we go, we want to leave you with one last tip: MIRRORS! Add mirrors (ideally floor-length) to create the illusion of a bigger space.
Did we give you an idea but you're not sure where to start?! Chat with our team online – we'll help you get started with picking out the perfect pieces to create a cozy space. Shop online at www.oldbrick.com or shop in-store – our sales team(s) would love to meet you!