All Things Brunch!
In honor of our St. Sacrament Champagne Brunch Cruise Giveaway, we rounded up some of our favorite brunch recipes. Here at Old Brick, we prefer both savory and sweet treats and brunch should start between 10 am - 11 am!
Our Favorites include quiche, croissant & bagel bakes, coffee cakes, and scrambled egg casseroles! If you are looking for some delicious brunch recipes keep on reading!
Rachael's Favorite: Everything Bagel Breakfast Casserole
Bacon. Cheese. Bagels. Eggs. Do I have to keep going??
This dish can be assembled the night before (if you are prepared) or quickly the morning of- let's face it who has time to prep EVERYTHING the night before? You can easily customize this casserole by substituting the bacon for sausage or ham or even some veggies! Add in your favorite kind of cheese for a delicious bite. Feature this delicious casserole on the Mission Casuals 5pc Dining Set
Prep Time: 15 min
Cook Time: 45 min
Total Time: 1 hr 10 min
Ingredients:
2 day-old everything bagels, cut into bite-size pieces

1 bell pepper, chopped

¾ cup cherry tomatoes, quartered

6 slices of cooked bacon, chopped

9 large eggs

1 ½ cup of whole milk

1 ½ cups of shredded cheese (pick your favorite- I like cheddar!)

½ teaspoon of ground mustard

½ teaspoon salt

⅛ teaspoon black pepper

6 oz block of cream cheese, cut into bite-size pieces

Everything but the bagel seasoning and scallions- optional for garnish!
Instructions:
Preheat the oven to 375℉ (191℃). Grease a 9 x 13in casserole baking dish.

Layer the bagel pieces, peppers, tomatoes, and bacon in the dish. Whisk the eggs, milk, salt, pepper, and ground mustard together. Then stir in the shredded cheese.

Top evenly with cream cheese pieces and sprinkle with everything bagel seasoning.

Bake for 40-50 minutes or until the center is set (shouldn't be jiggly) and the edges are golden brown. Remove from the oven and let cool for at least 10 minutes before serving.

Cover leftovers (if there are any!) and refrigerate for up to 1 week.
Stephanie's Favorite: Quiche Lorraine
French-inspired and romantic, Quiche Lorraine is perfectly served both warm and cold, day and night. With a buttery crust and flavorful egg filling it is a brunch MUST HAVE! Serve this French-inspired classic on The Kona 5pc Dining Set
Prep Time: 30 min
Cook Time: 1 hr 1 min
Total Time: 1 hr 31 min
Ingredients for pie crust:
1 ½ cups of unbleached all-purpose flour

¼ teaspoon salt

5 tablespoons of cold unsalted butter, cut into ½-inch pieces

1 tablespoon cold shortening, cut into ½-inch pieces

3-5 tablespoons of water
Instructions:
In a food processor, mix flour and salt, add butter (in small amounts) and pulse (after each addition), then add in shortening (pulse again) slowly add in the water, one tablespoon at a time. Stop once the dough starts to stick together and forms a ball. Let chill for 15 minutes.
Ingredients for filling:
12 ounces of bacon, cooked and chopped

1 ½ teaspoon olive oil

1 large yellow onion, coarsely grated

2 large eggs plus 3 additional egg yolks

1 cup whole milk

½ cup heavy cream

⅛ teaspoon salt

⅛ cayenne pepper

⅛ teaspoon ground nutmeg

2 tablespoons fresh chives

3/4 cup grated Swiss cheese (Gruyere works well too, or your favorite)
Instructions:
Preheat the oven to 350℉.

Lightly spray a 10-in tart (or pie) pan with nonstick spray and set aside. On a lightly floured surface, roll out the pie crust dough into a 12-inch round. Place the rolled-out dough into the prepared pan, pressing down in the center and up the edges carefully not to rip the dough. Using kitchen shears or a knife, trim excess dough around the edge. Place the dough-filled pan in the freezer for at least 30 minutes.

Heat the olive oil in a small saucepan over medium heat. Add the onion, stirring occasionally, for 6-8 minutes or until the onions are lightly browned. Remove from heat and set aside.

Remove crust from the freezer, after at least 30 minutes, and line with two layers of heavy-duty aluminum foil/parchment paper. Make sure to allow for a couple of inches to overhang on the sides of the pan. Fill with pie weights or dry beans and bake for 25 minutes.

After 25 minutes, remove the tart from the oven and carefully remove the pie weights and foil (slowly lift up each side of the foil allowing the pie weights to roll into the center). Using a fork, poke several holes around the bottom of the crust then return back to the oven for an additional 15 minutes. Remove and set aside.

In a large bowl, combine the eggs and egg yolks, whisk well, making sure to break up the yolks. Add in the milk, heavy cream, salt, pepper, nutmeg, and chives. Whisk vigorously for 2 minutes. Don't skip this part- vigorously whisking helps create air bubbles making the quiche light and fluffy in texture.

Evenly sprinkle bacon, cheese, and onions on the bottom of the partially baked crust. Pour in the egg filling. Bake at 350℉ for 35 - 40 minutes or until the edges are set and the center is slightly jiggly. It will continue to bake once removed from the oven.

Cool on a wire rack for at least 15 minutes before serving!
Kaitlynn's Favorite: Ham & Cheese Croissant Bake
Who doesn't love a good croissant? How about a croissant with cheese AND ham? This ham and cheese croissant bake is an experience! Prep it in advance so you just have to bake it before brunch. Elevate this yummy bake by placing it on the Walker 5pc Dining Set
Prep Time: 15 min
Cook Time: 50 min
Total Time: 1 hr 5 min
Ingredients:
12 cups (about 12-16 croissants) 2-day old croissants, roughly torn

2 tablespoons salted butter, thinly sliced

2 tablespoons extra virgin olive oil

2 cups mixed mushrooms, roughly chopped

2 cloves garlic, minced

2 tablespoons fresh chopped thyme (or 2 teaspoons dried)

1 cup heavy cream

1 cup whole milk

3 large eggs, beaten

2 tablespoons dijon mustard

½ teaspoon cayenne pepper

3 ounces of deli ham or prosciutto, torn

4 ounces Brie cheese, cubed

½ cup shredded Swiss or Fontina cheese

2 tablespoons of everything bagel seasoning (optional)

Salt & pepper to taste
Instructions:
Preheat the oven to 350℉. Grease a 9 x 13-inch baking dish.

Arrange the torn croissants in the baking dish and lay 2 tablespoons of thinly sliced butter over the croissants. Transfer to the oven and bake for 5-8 minutes or until the croissants are lightly toasted.

Heat the olive oil in a large skillet over medium heat. When the oil is hot, add the mushrooms and season with salt and pepper. Cook undisturbed (No touching!) for 5 minutes or until the mushrooms are golden, stir and continue cooking until they have caramelized, 3-5 minutes. Add the garlic and thyme, and cook an additional minute. Remove from heat and set aside.

In a large bowl, whisk together the cream, milk, eggs, mustard, cayenne, and a pinch each of salt and pepper. Add the toasted croissants, mushrooms, ham, and Brie cheese, and gently toss to combine. Pour the mixture into the casserole dish (used for toasting the croissants) and top evenly with the Swiss cheese and sprinkle with everything bagel seasoning.

Cover the dish with foil and bake for 30 minutes. Remove the foil, then continue to bake for another 10-15 minutes or until the croissants are golden brown on top. Serve warm.
Kim's Favorite: Mini Scrambled Egg Casseroles
Warm crescent dough, ooey gooey cheese, crisp bacon, these mini scrambled egg casseroles have it all! Have a party and let your guests individualize them!
Prep Time: 5-10 min
Cook Time: 17-22 min
Total Time: ≈ 35 min
Ingredients:
1 sheet of crescent dough

6 eggs

1 ½ cups of your favorite cheese

1 ½ cups of your favorite meat and/or veggies

Salt and pepper to taste
Instructions:
Preheat the oven to 375℉.

Unroll the dough and cut into 4-inch circles (enough to fit in your muffin tins) Place your pieces of dough in a greased muffin or cupcake pan. Using a fork, poke holes in the bottom of each hole. Bake for 7-9 minutes or until dough is set but not browned.

Cook any meats you choose to use and any veggies. Then whisk your eggs and season with salt and pepper. Add in your desired toppings (cheese, meat, and veggies).

Pour into your mini crusts and then bake for an additional 17-22 minutes or until eggs are set and the crust is brown. Serve warm or cold!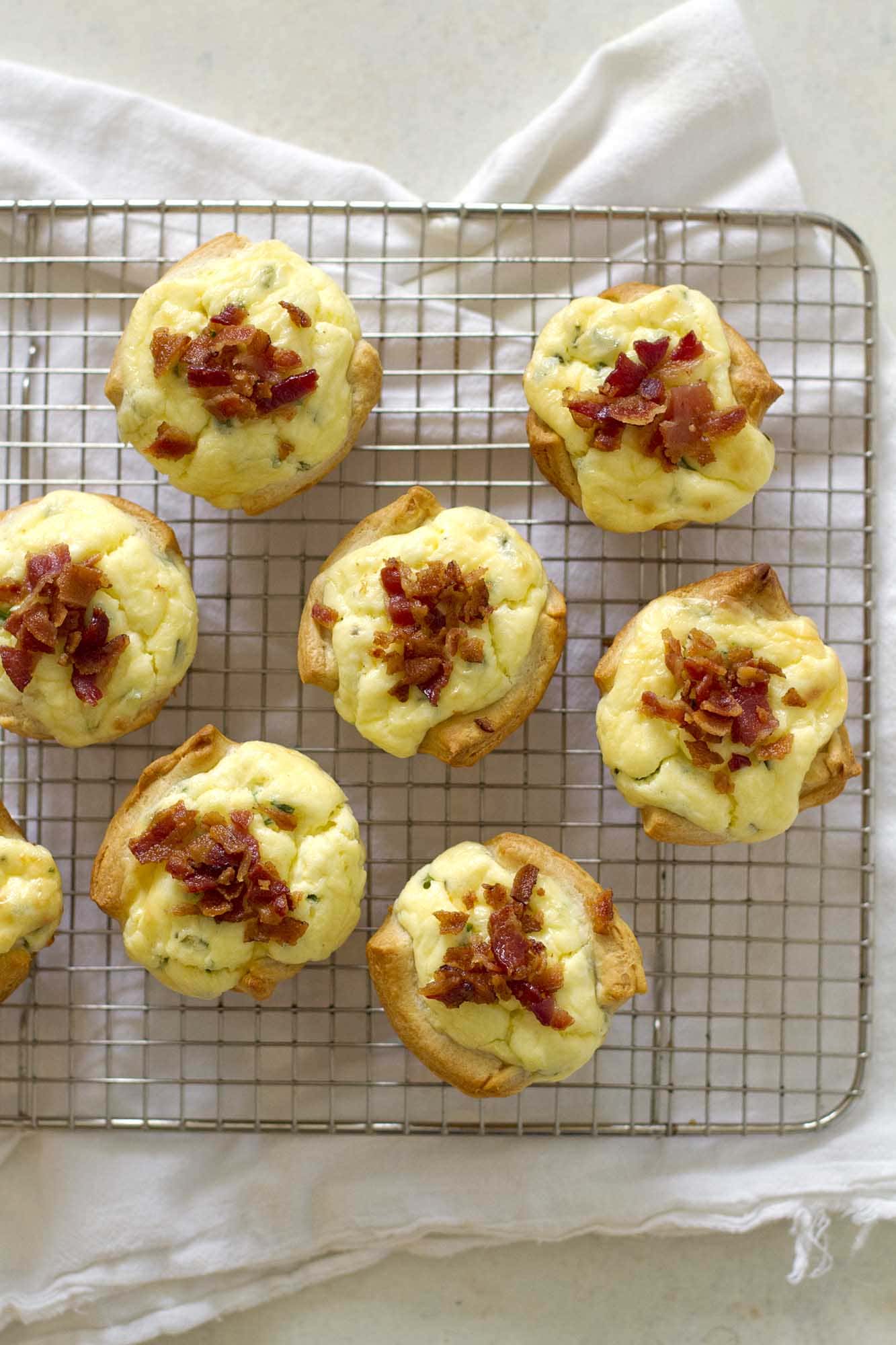 Abbie's Favorite: Chocolate Chip Coffee Cake
Delicious chocolate chips, yummy cinnamon spice, luscious vanilla glaze. This chocolate chip coffee cake deserves to be on every brunch table. If you are more of a fruit person (no judgment, haha!) Substitute blueberries for the chocolate chips! Place this dish of heavenly chocolately goodness on the Manchester 7pc Counter Height Dining Set
Ingredients for batter:
½ cup butter

2 eggs

1 cup sour cream

1 cup sugar

2 cups flour

1 teaspoon vanilla extract

1 ½ teaspoons baking powder

1 teaspoon baking soda

¼ teaspoon salt
Ingredients for Filling:
½ cup sugar

1 teaspoon ground cinnamon

2 cups semi-sweet chocolate chips (or blueberries for a fruit spin!)
Ingredients for Glaze:
1 cup powdered sugar

2 teaspoons of water
Instructions:
Preheat the oven to 350℉.

Cream together the butter and sugar until well combined. Add in the eggs and vanilla. Stir in the sour cream.

In a separate bowl, stir together the flour, baking powder, baking soda, and salt. Stir in wet ingredients until combined. Add in chocolate chips and combine, careful not to overmix.

Mix together the sugar and cinnamon for the filling in a small bowl.

In a greased 9 x 13inch baking dish, pour half of the batter then sprinkle half of the cinnamon sugar mix then pour the remaining batter on the top finishing with the remaining cinnamon sugar mix sprinkled evenly across the top.

Bake for 40 minutes or until a toothpick inserted comes out clean.

While it bakes, whisk together the powdered sugar and water to make the glaze.

Pour the glaze over the warm cake, cut into squares, and serve!