Hello, all interior design enthusiasts. Today we're going to dive in deeper and explore the world of Farmhouse—what it means, the different styles within this category, and most importantly, how to achieve this approachable and warm look just in time for these brisk fall days. First, grab your PSL and we'll dig into what a trendy Farmhouse home could look like!
What is Farmhouse?
Farmhouse style is an umbrella term for the favorite trend, that covers many seemingly different looks. Much like its predecessor, 'country' this collection is welcoming and cozy—but it is updated with an editing hand. Whereas country invites "clutter" in the most endearing sense of the word, Farmhouse is minimalist oriented with cleaner lines, with a heavy emphasis on functional décor that provides texture and playfulness. When we say functional décor we are talking aesthetically pleasing pieces that allow for everyday use. Think of the Madison County Counter Set or the Nashville 7pc dining set.
Comfort and relaxation are at the forefront, as travelers aim to bring experiences of easy living beyond vacation, into the everyday. In today's fast-paced age of the cell phone and social media, we are drawn to items and activities that seem to slow time. Allowing us to disconnect and live in the now. Pieces like the Alyssa sofa — seem to underscore the swiftness of time's passing. Yet they somehow make us feel connected to common thread shifting our focus away from that ticking clock. While Farmhouse is a well-defined term, many styles and looks have a home within this category. Rustic and Painted wood, worn and rubbed metal, pottery with pits and pretty porcelain all have a place in the farmhouse trend, tempering the new. We break it down below.
Traditional Style is full of European influence. It features overstuffed or tufted upholstery, turned legs, layered patterns, and dark finishes featuring the natural characters of the wood. If your mind doesn't immediately go to the Hill Crest bedroom collection, we are doing something wrong! When shopping to achieve Traditional—you'll want to keep your eye out for either an earthy, warm color range.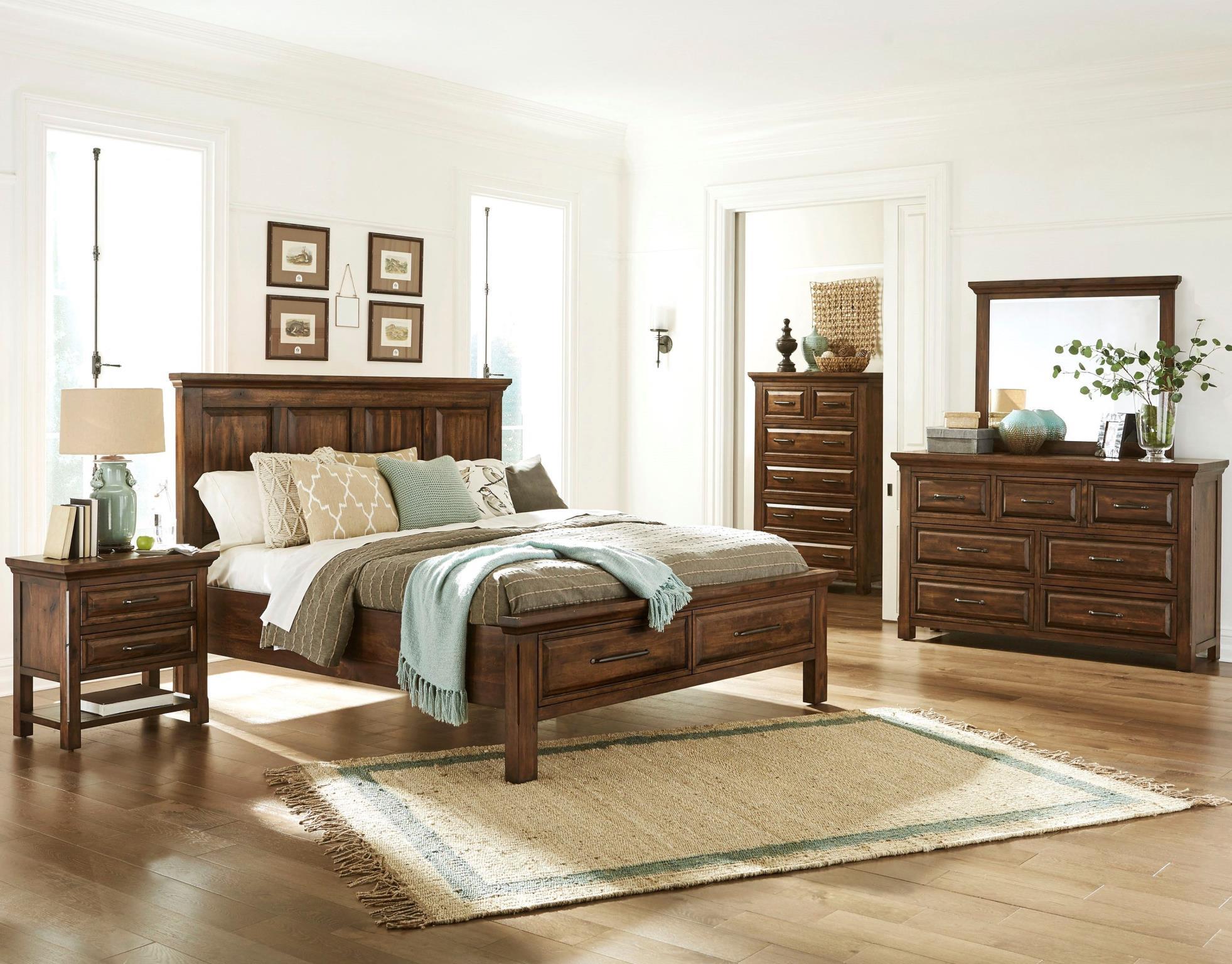 Classic Style is synonymous with Americana: Folksy pieces in brighter hues (usually paint chipped or sun-faded), simple functional furniture, and well-used accessories like baskets, kitchenware, galvanized buckets, and stitched quilts. Think shaker cabinetry, wrought iron beds, and small working family farms. Our Madison County Server and Drake Sideboard are excellent examples. Both providing the rustic look we have been talking about while incorporating the function and practicality of the items. Classic style is easiest to convey in spaces such as kitchens or entryways. Keeping that less is more mentality and translating it to humble fabrics and materials like linen and cotton.
Thinking you want to spruce up your space but don't have the budget to redo your entire kitchen? We're right there with you. Simply add one or two Coming Home Good Company Side Chairs to the head of your existing dining set. You'll be singing "Country Road Take Me Home to a Place… Called Old Brick!".
Modern style is easily broken down as 'Rustic Meets Refined'. Rustic wood, aged metal, and smoked glad are key elements in any Modern style farmhouse—a bizarre term yet this style is anything but. If you aren't already noticing the common theme of neutrals, this style brings it front and center for you. If this is the Farmhouse style for you, but you have no clue where to start don't worry—we're here to help! Check out our Artisan Craft Side Table and Artisan Craft Cocktail Table. Serving you clean lines and unfinished wood, which highlights that rustic tone while keeping that silhouette extremely minimal and modern.
Contemporary style utilizes reclaimed and raw finished, clean designs, and a palette of neutrals. Taking some inspiration from its predecessor, modern. Imagine a river rock fireplace, a large simple sectional slipcovered in cream linen. Like we mentioned before, Farmhouse is all about livable homes where décor is functional. Who wants a sofa no one can sit on—not us! It may be hard to picture farmhouse when looking at the Ashville — she is simple —but all the better. Just pair her with some tables from the Nature's-Edge collection and their raw, finished design will transport your living room to the farmlands! Watch out for cow crossings—moooo!
Boho (Bohemian) style combines the prints and shades of far-flung places with the appeal of natural wood and stone, and most importantly, with the overall feeling of being near to the land and making use of what's to hand. This doesn't have to mean old and outdated though—as the Rustic Shores power desk shows us. While the piece is rustic in the finish, it incorporates that modern silhouette with the added power feature! The future is now… the future (and past and present) is Farmhouse!
Farmhouse style is living your best and simple life. Its potential is in every piece, and it is most importantly for everyone. We don't see this style disappearing anytime soon but rather breathe and grow into the next thing, a seed floating in the air. You can shop farmhouse styles at your Local Old Brick—or right online at www.oldbrick.com.